Blog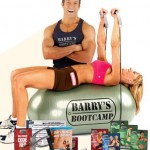 As seen on such programs as The Today Show and Good Morning America and featured in such magazines as Us Weekly, People, and Shape, Barry's Bootcamp complete workout system is touted as one of the most efficient and effective workout programs available. Over the past 10 years, Barry has become one of the most popular fitness trainers in Hollywood. With a client roster that includes Jake Gyllenhaal, Katie Holmes and Biggest Loser host Alison Sweeney, he seeks to provide the best bootcamp in the world. And it seems to be working — for those willing to endure some pain for their gain!
| | |
| --- | --- |
| Product: | Barry's Bootcamp |
| Manufacturer: | OptiMax Fitness |
| Price: | Free 30 day trial plus $9.99 S&H ($59.99 after 30 days) |
| Guarantee: | 30 Day Money Back Guarantee |
How It Works
Barry Jay designed his own Bootcamp to help his A-list celebrity clientele in Los  Angeles. Now, he is sharing his Bootcamp with you, so that you can also lose weight  the way the stars do. Barry's Bootcamp is a complete full-body exercise system that  will help get you in shape in as little as 30 days. Based on Focused Interval Training  (FIT), this Bootcamp delivers fast and dramatic results in a short period of time.
The FIT system requires you to perform each exercise for just 60 seconds at 100  percent of your ability and then rest for 30 seconds. Barry's revolutionary exercise  strategy, combined with his patented, raspy drill-sergeant tactics and fun atmosphere,  creates a unique and irresistible workout environment that inspires and motivates  "enlistees" to push harder and get into great shape fast.
Barry's Bootcamp is full of energizing, fun and easy to follow workouts. You will be  losing weight while having a blast.
What You Get
The complete package comes with nine workouts on three DVDs, along with a transformer,  Barry's patented Power Handles, two sets of resistance bands, and Hollywood Code Red:  6-Day Rapid-Fire Weight Loss Workout and Eating Plan.
The three DVDs include the Fat Blaster Upper Body Workout, a 21-minute workout that  concentrates on your chest, arms, shoulders, and back; the Fat Blaster Lower Body  Workout, which tones and strengthens your thighs and legs while lifting your butt; and  the Mission Specialist Workouts, which target your problem areas in just 12 minutes.
Barry's Bootcamp fitness equipment is every bit as important as the DVDs. The  transformer, for example, is a revolutionary combination of a workout bench and an  ultra-stable core exercise ball. You can lay on it, lean on it, and even lift it. The  package also includes Barry's patented Power Handles, which flex and rotate through  each bootcamp exercise to focus the resistance on your entire muscle. The handles work  in conjunction with two sets of resistance bands, which let you choose the best  resistance level for each exercise.
Click Here To Buy Barry's Bootcamp Now!
Consumer Reviews
From Amazon.com

Keshia L. Phillipenas: I absolutely love this product! It is so practical and easy to fit into my busy life with my new baby. I thought I would never shed those last 8 pounds, but with Barry's Boot camp I have done more than that. Not only have I lost the weight, but I have toned up. I am in better shape now than I was before I had my baby. This works! I recommend it to ANYONE wanting to shape-up or shed some unwanted pounds. It really has changed my life…
A.Smith: This is a great workout program. I was surprised that it was easier then I thought it would be, but you can see the results pretty quickly. Works your lungs and muscles and makes you sweat. I feel energized after the workouts.
From Buzzillions.com
In Shape 40′s Mom: What a great value! A total workout for what I was paying monthly for my gym membership. The quality of the product is amazing. By the end of the workout, I am soaked with sweat. Not only am I burning calories, but I am gaining strength. I would recommend this product to all of my friends.
Sara: …I've been doing Barry's workouts and lost 14lbs in the first month! I promise if you follow the work out religiously and stick to the eating guide you'll have the same success…
From 3fatchicks.com
Zandralexia: I'm on day three of barrys and it is awesome it is really motivating and fun, it is a little tough at first but i never feel bad if i have to take a short break because you are so sore after and feel so good, im already down a pound and a half because of it.
Average Consumer Rating: 4.5/5
Click Here To Buy Barry's Bootcamp Now!
Pros
Easy to use
Compact
Multifunctional
Cons
Some consumers complain that the transformer (fitness ball) is poorly made.
The Bottom Line
Burning fat up to 9 times faster than regular exercise, Barry's Bootcamp is the  perfect way to exercise smarter, not harder and achieve the same amazing results!
Where to Buy: Get Barry's Bootcamp
Your Rating: [ratings]
"Habit is habit and not to be flung out of the window by any man, but coaxed downstairs a step at a time."  This quote by Mark Twain may not seem to have anything to do with losing weight on its face.  However, as you progress in your weight loss program, you may find wisdom in it.  Maintaining proper motivation for weight loss can be one of your biggest hurdles when trying to lose weight.  There are, however, some tricks you can use to stay motivated.
The motivational trick that many people report working best for them is looking down at the scale and seeing actual progress.  If you are able to get off to a good start, losing those first 5 pounds can turn into a dramatic motivator.  Once you see that your program is working and it is actually possible for you to lose weight, you will be encouraged to stay with it, and the weight loss will continue.
Another way to stay motivated in losing weight is to keep a picture diary of your progress.  Start on day one of your program with several pictures of yourself in different poses.  Each week, take new pictures of yourself in the same poses.  When you make progress, it will be very apparent and this can be an extremely powerful motivating technique.
It is also important to set reasonable goals in order to maintain proper motivation.  You can easily become discouraged and quit by setting unrealistic goals.  For instance, it does you no good to try and lose 30 pounds in 30 days, or some other such nonsense.  If, however, you set a more reasonable goal of losing say, 10 pounds in 30 days and you achieve that goal, you will feel as if you are on a direct path towards success.
A final and perhaps most powerful method of maintaining motivation is to lose weight with a group of friends or like-minded people.  Attempting to lose weight with other people can bring a few different benefits to your particular goals.  You will feel encouraged by the support others show you in trying to reach your goal.  Also, others in the group will hold you accountable and keep you honest.
All that is needed to lose weight is proper knowledge and proper motivation.  While knowledge in losing weight can be easily obtained from a number of sources, lack of motivation is often what stops people from achieving their weight loss goals.  However, with the powerful tips described above you will be able to stay motivated and complete your weight loss program.

Not a day goes by when we can't uncover a new scientific study pointing towards the advantages of losing extra weight. Couple this with the social pressure one feels to lose weight and look like the Hollywood types, and it is not hard to understand why there is so much interest in looking thin.
Health experts generally recommend eating a healthy and balanced diet to lose extra body fat. But what exactly constitutes a healthy weight loss diet? An ideal diet for weight loss should be made up of between 45% to 65% carbohydrates, 10% to 35% protein, and 20% to 35% fat.
When carbohydrates are broken down in the body they take on the form of glucose. Glucose sugar is the primary source of energy for every activity the body takes on. Between 45% — 65% of your calories should be derived from carbohydrates. Virtually all foods contain some amount of carbohydrates, thus the choices available can be staggering.
To lose weight, you should look towards more nutrient rich carbohydrate containing foods such as fruits, vegetables, legumes, and whole grains. Foods such as colas, fruit drinks, candy, and cookies, which do not contain any significant amount of nutrients should be avoided. These foods are often described as containing empty calories.Proteins play an equally vital role in all the body's functions.
Proteins are the single largest contributor to helping our immune system and hormonal systems function. Additionally, they are the essential building blocks for most of the bodies tissues, such as the skin, muscles, and the internal organs. As with carbohydrates, proteins are found in nearly all foods. However, not all protein sources are created equal. When attempting to lose weight, you should strive to obtain the majority of your protein from foods like fish, poultry, eggs, cheese, nuts, and lean red meat. The government recommended amount of daily protein intake is equal to roughly .35 g of protein per pound.
Let's not forget about fats. It may surprise you to read that the body requires 20% to 35% of its daily calories from fat. There are different types of fat, however, and you must be careful to strictly limit the types of food that contain fat varieties that pack the pounds.
Foods such as processed meats, butter, lard, cream, whole milk dairy products, ice cream, and many processed grain foods contain what is known as saturated fat. Saturated fat is especially harmful to the body because it can build up in the arteries and contribute to a number of diseases. It is recommended that a mere 10% of your daily calories come from saturated fats. Trans-fats are even more harmful. Generally derived from foods containing hydrogenated oils (be sure to check the ingredient labels at the store) the current recommendation for intake of trans-fats is zero. To achieve the optimal balance of fat in your diet, include foods such as peanuts, walnuts, almonds, avocado, canola and olive oil, salmon and other fatty fish, and sunflower oils.
If you are struggling with your weight, changing to a healthy weight loss diet is perhaps the most important thing you can do. Not only will you improve your health, but you'll look and feel better too! Following a few simple guidelines, such as the advice given above, can bring you a long way towards eating right to look right. For further guidance on a healthy weight loss diet, check out Strip the Fat.
Is there actually a connection between childhood obesity and fast food? The reply will differ depending upon whom you ask. Obviously the fast food industry would like to deny such a connection. But parents had best consider the facts. Obesity isn't only a problem of how a youngster looks. It also means many dangerous and often fatal health conditions. Being heavy is linked to bronchial asthma, arthritis, joint damage, heard disease, diabetes, gout, sleep apnea, respiratory distress, and chronic pain. So, thinking about whether or not childhood obesity and fast food are linked can mean preserving a child's health. Let's look at this matter a bit closer.
One reason to think that there's a connection between childhood obesity and fast food is that obesity is a modern problem. Doctors have never seen as many cases of it in the past as they do now. It appears as if it's no coincidence that we also have more fast food restaurants now than ever before! These restaurants are on just about every street corner in the U.S. They are even inside of many businesses such as retail stores, libraries, office buildings, and even schools. But the number of restaurants and the number of cases of children being overweight does not itself prove that there's a connection between childhood obesity and fast food.
However, you would do well to look at the types of foods dished out at fast food restaurants. With this in mind, the association between childhood obesity and fast food may be more evident. Almost all items on a fast food menu are very calorie-dense. This means that they have a lot of calories for the amount of food you're eating. Almost all average sized hamburgers have about 500 or more calories. Liken that to a turkey sandwich on wheat bread which might have around 200 calories. And, naturally, along with the hamburger comes fries and a soda, and possibly even a milkshake or dessert.
The association between childhood obesity and fast food gets obvious when you think about how frequently children eat these types of meals. Simply one fast food meal can comprise a full day's worth of calories. A child that consumes these meals many times per week or more than one per day can mean they're virtually eating thousands of extra calories per week.
The amount of calories that a person will typically devour at a fast food restaurant is an obvious connection between childhood obesity and fast food. If a child is active enough to burn the extra calories it might not be a problem. But a lot of children live very inactive lives, sitting in front of the TV during their spare time rather than being outside playing. Even though the association between childhood obesity and fast food is obvious, the food isn't the only perpetrator or cause to the problem. A parent would do well to get their child up and active in order to preserve his or her health.
As America's obesity epidemic continues to spiral out of control, more and more people are interested in finding a successful fat loss plan. There are, however, thousands of such plans claiming to help you lose weight. It can be a seemingly impossible task to determine which plans actually work. But, there are, five key aspects to look for in choosing a plan that will work.
1. Fundamentally Sound – A successful fat loss plan should be based upon solid science. This doesn't mean that a successful plan has to necessarily be at the forefront of weight-loss science, but its fundamentals must be based upon proven results. This can be as simple as a proven strategy for cutting calories, an effective workout routine, or the incorporation of new weight loss medicine into the program.
2. Proper Diet – With regards to diet, specifically, you should look for a plan that shows you how to follow a low calorie and high fiber diet. Obviously, you want to follow a low-calorie plan. But why high fiber? Recent studies have confirmed that a diet high in fiber tends to fill a person up quicker than a diet low in fiber. Therefore, when eating high fiber foods, you will become fuller quicker.
3. Cardio Exercise & Strength Training – A successful fat loss plan must also incorporate a properly balanced exercise routine. Typical cardiovascular exercises, such as running, swimming, and bicycling, must be included to burn calories. But equally important, is that a strength training routine also be part of the fat-loss program. This is vital because muscle burns calories at a much quicker rate than fat. If you can successfully add muscle mass to your frame, then you will be burning more calories.
4. Clearly Defined Goals – Your weight loss plan should include firm planning. Without solid goals in mind, you are almost guaranteeing failure in trying to lose weight. Not only should goals be results oriented, such as losing a certain amount of weight in a certain amount of time, but also process oriented. For example, you would want one of your goals to focus on maintaining your planned diet for a certain amount of time.
5.  Motivation – A final key to a successful fat loss program is including proper motivation. While it is true that you are the only one who can properly motivate yourself to lose weight, there are certain tools you can be equipped with to achieve that motivation. Techniques like keeping a journal or losing weight with a group of friends can vastly improve the motivation you feel to lose weight.
Every successful fat loss plan is comprised of many different aspects. However, there are a certain number of key components that you will find every successful plan uses. Relying upon a solid scientific background, incorporating proper diet and exercise, planning with firm goals in mind, and utilizing proper motivational techniques are five such key aspects of a successful fat loss plan.
To learn more, grab your copy of 7 Secrets to Fat Loss.