In exercise, the general rule of thumb is no pain – no gain. However, the Flex Belt offers some new technology that stimulates muscles with electric currents to tone and tighten your abs. It is an "FDA cleared medical grade abdominal toning technology for men and women." The Flex Belt is clinically proven to deliver firmer, stronger and more toned abdominal muscles while you are at home, at work, watching TV, exercising, folding laundry, helping your kids with their homework, taking a walk…..virtually anywhere and anytime.
| | |
| --- | --- |
| Product: | The Flex Belt |
| Manufacturer: | Slendertone |
| Price: | $199.99 + (free S&H with email rebate) |
| Guarantee: | 60-day Money Back Guarantee |
How It Works
The Flex Belt features three pre-positioned, medical-grade Gel Pads that are designed to cover the central abdominals and the oblique muscles. (This is where most of us typically have excess fat.) The signals from the belt cause the muscles to expand and contract, giving you the sensation generally obtained from sit ups or crunches. The Flex Belt generates deep yet comfortable contractions that effectively target your abs all at once for an effective workout in just 30 minutes.
The uniqueness of this product is that you don't actually have to do a physical workout. The belt is lightweight and "breathable," and has different, built in training programs. Or, you can manually adjust the intensity yourself.
Probably one of the most advanced abdominal products around, this innovative method for exercising the stomach muscles is also very easy on the back, and will be a welcome change from those who struggle with or are unable to do sit-ups and crunches. The Flex Belt achieves a very efficient, targeted abdominal workout without the need for any suffering.
What You Get
As part of your purchase, you receive gel pads, a rechargeable power supply unit, and a belt extension. The belt extension is only to be used if you have a waist size which exceeds 44 inches. A carrying case is also provided, along with a complete instruction manual on how to use the product. You also receive a 2-year extended warranty, so you can get your belt replaced should anything happen to it….no questions asked.
Click Here To Buy The Flex Belt Now!
Consumer Reviews
From DietBlog.com
Kelly_t: I read the review and thought this might be a good one. I have some serious lower back problems, and about 3 months ago I realized I was not going to be able to do sit-ups anymore. I could not stand the idea of letting my abs turn into a "gut." So I gave the Flex Belt a try. I have to say I was very surprised by how well it has worked.
Joshua: Really didn't think a belt would actually tone my abs, but The Flex Belt works, and it works faster than I expected, too. After a week of using it, I could feel my muscles developing, and that's kept me motivated to keep putting it on. By summer, this gut should be gone.
Aileen: I lost a lot of weight within the past year & I am real proud of that, BUT i quickly learned that loose skin does not look so hot! I was actually a little bit depressed for a while, thinking 'why did I bother if I still am gonna look bad?' But then I found the Flex Belt on this site, & it did EXACTLY what I needed it to do. It was like the final step in my body makeover….to tone the loose skin on my abs. Now I finally feel like I have the body I wanted.
From DietsInReview.com
Samantha: … I would recommend this to anyone wanting to strengthen their core, and to people with lower back problems. When I went to physical therapy for my lower back issues they used this same technology, so I was confident in my purchase even before I received it!…
From Amazon.com
Sandra B. Cress: I ordered the Slendertone – expecting to be disappointed, but hoping for the best. I am relatively fit (work out 3-4 times a week), but am having trouble losing in belly/hips area. I have used the Slendertone belt for only 10 days straight – and can't believe how I'm seeing definition already – particularly in my upper abs. I was planning on giving it 14 days before judging, but I could see a difference after 5 days. And last time I did weight training, I was actually stronger…
K. Banks: I'm in love with this product. I wear it when I workout to get an extra burn, and when I clean the house or watch TV to be doubly productive. I would recommend this to any and everyone with either a busy lifestyle or a sedentary one. This thing really works.
Average Consumer Rating: 4/5
Click Here To Buy The Flex Belt Now!
Pros
Helps tighten, tone and strengthen the abs anytime or anywhere.
Clinical trials show that 100% of users report it works.
Backed by major celebrities, doctors and approved by the FDA as a medical grade device available to consumers.
Great for Casual Exercisers, Fitness Enthusiasts, Executives who don't have time to make it to the gym, Seniors, New Mothers, People with physical difficulties or anyone that wants more attractive abs.
Comes with a 60-Day Money Back Guarantee!
2-year extended replacement warranty.
Most customers love them and have enthusiastic things to say about their experiences.
Cons
You must change the pads about once per month. Replacement pads are available, but they can get pretty costly.
The Flex Belt does not recommend a healthy diet plan or regular fitness regimen.
The 60-Day guarantee only applies if you buy through the official site.
The Bottom Line
With less free time and busier lives, people around the world are losing the opportunity to regularly exercise. The Flex Belt is designed to alleviate that issue by providing an easy, comfortable and completely effective product that provides exercise and convenience simultaneously. This anytime, anywhere belt has been scientifically proven to provide results within weeks.
The Flex Belt is ideal for those that may have tried to flatten and tone their stomach through traditional exercise without success. It is also great for people that are in awesome shape and already have a great stomach, but simply want to make it stronger and more defined. And for those who may be limited in their ability to perform strenuous exercises, like sit-ups or crunches, this ergonomic approach is ideal.
Its ability to precisely target the appropriate muscle groups is nothing short of amazing, and has opened the door to a new era in fitness.
With the Flex Belt, it doesn't matter what your current exercise status is because there will always be time to build firmer, stronger abs.
Where to Buy: The Flex Belt Main Site
Your Rating: [ratings]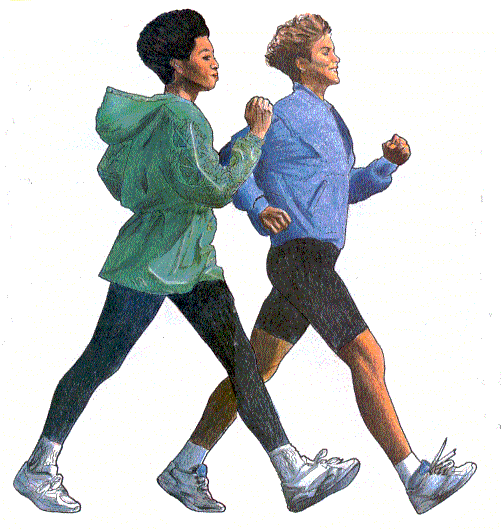 If you thought losing weight was difficult, maintaining the weight you lost is even more difficult. I cannot tell you how many of my friends were able to lose weight successfully, only to regain it after a few weeks of completing their weight loss program. They regained the weight for two reasons: they went back to their old lifestyle habits (e.g., eating junk food), and they stopped exercising on a regular basis. Read more →
Do you find it difficult to find the motivation to get fit? Maybe it's lack of time or you can't get to the gym or you're just plain too tired when you do have the time to work out. Believe it or not, you are not alone.
And then there's the "lose weight fast" route. The diet and fitness industry sells billions of dollars worth of products, pills, and gimmicks every year. These diet plans and exercise programs all tell you that they're the best. There's Pilates, spinning, traditional cardio, and all kinds of celebrity backed fitness machines and diet companies. But, the truth is that when it comes to fitness there is no magic pill or diet. Complete fitness requires proper nutrition, and effective and regular exercise.
If you're struggling to wade between the many distractions and choices, here are some ways to get your motivation to exercise and get fit:
Tune out the commercial messages. Don't pay attention to the myths, quick fixes, or whole-heartedly trust any celebrity endorsements.
Find a fitness plan that works. That includes proper nutrition, creating a calorie deficit, boosting your metabolism, and doing more efficient workouts. Workouts based on newer research allow you to spend less time and effort and get better results.
Make a commitment. Don't hop from one program to another hoping to find that quick fix. Once you find a good program, stick with it. Success takes consistent time and effort.
Monitor the results you're getting and if needed, make modifications to your plan. Eliminate what's not working, and do more of what is producing the results you want.
If you want to make a big change, make lots of little changes. Don't turn your life upside down to accommodate your fitness plan. Instead, find a way to work it into your schedule without disrupting things. Find a complete and workable fitness plan and commit to it. Track your results, and adjust as needed until you get the results you want.
Staying motivated to exercise and get fit is no easy task. Knowing that you feel better when you're physically fit is simply not always enough. But, if you get rid of all the noise and don't fall for the false promises of "losing weight fast" with no effort, you're on the right path to making a change. Find a proven program, commit, track your progress and you'll soon be on your way to a healthier lifestyle.
To help you get started, below are three programs that have delivered proven results: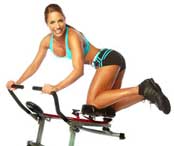 The Ab Circle Pro is a portable fitness device that tones your abs while also trimming your bum, thighs and hips. Fitness celebrity Jennifer Nicole Lee teamed up with FitnessBrands.tv to create and develop this machine touted as being a "treadmill for your abs."
| | |
| --- | --- |
| Product: | Ab Circle Pro |
| Manufacturer: | Fitness Brands, Inc. |
| Price: | $199.75 + $34.50 S&H |
| Guarantee: | 60-day Money Back Guarantee |
Product Description
The Ab Circle Pro combines Cardio exercise with abdominal exercise to burn fat and tone sleek trimmed abs. Using gym-quality steel, the Ab Circle Pro uses a unique friction-free track that allows you to move in a circular or side-to-side motion on your knees as you hold onto the secure handlebars. The device can be set to three levels of resistance and offers you a cardiovascular workout as well.
This ab workout machine appears to be marketed as a good option for those looking to focus on the abdominal muscles, including the lower and upper abs, as well as the obliques. It also seems to be advertised as an effective option for those who would like to give their lower body a workout as well. According to the manufacturer, just three minutes on the Ab Circle may provide a similar workout as doing 100 sit ups, though results will certainly vary from user to user.
You can try the Ab Circle Pro for 30 days in the comfort of your own home for just $14.95 plus $34.50 shipping and handling. So if you want to lose those love handles, banish those bulges and send that pooch packing, try the Ab Circle Pro today.
Consumer Reviews
From InfomercialRatings.com:
5/30/2009 – Stefany of Alabama, US writes:
"After I recieved this machine first thing I noticed was most of it was made of a light weighing metal but the top where all your weight would be was made out of plastic, I had my doubts. As I worked out as directed I did notice my legs, thighs and hips starting to get some tightness in them but as far as losing any inches or weight in my mid section as promissed, nothing and this was working out anywhere from 3-5 minutes per workout sometimes 2 or even 3 times a day, for the two weeks. And as far as that plastic surface, it was wearing out before the two weeks were even up…"
3/22/2009 – Holly of CA, USA writes:
"I have tried a lot of different programs to tone my abs. After I had my daughter I really struggled to lose some of my pregnancy weight. I used all different infomercial products. I finally saw the Ab Circle and it looked like real workout equipment. The nice thing is it folds up and I can easily store it in my closet. I loved the nutritional guide that came along with this. I can honestly say that I would not be in the shape I am in without the ab circle. I am very happy with the product. The only thing I didn't like about it was at first it was hard. Now that I am used to it though I have already increased the resistance and am able to do it no problem."
From DietBlogTalk.com:
"RabbitRun: My husband and I almost fight over the AbCircle, and believe me, a few more times on this and I'll be able to take him, I know it says only abs, but my arms are stronger too, must be working those while I'm twisting, it's a super addition to my cardio…Roger thinks so too!"
"Aaron Ure: We have had our AB circle for just over a week with the whole family of four practicing on it only to find out that it has started cracking already. As for the claim that it is easy to use, I still have indentations in my knees from the bolts in the memory foam. A big dispointment."
"Rolanda: I just received my Ab Circle in the mail 3 days ago and I have to say that so far I think it's great!! It is a lot harder than I initially expected but I am already feeling it in my obliques, which have alwayd been a big problem area with me… I plan to use it consistently over the next along with a sensible diet plan of my own…"
"Nancy: I bought the Ab Circle and so far I like it, but I haven't seen great results as of yet, losing 10 pounds in 2 weeks, not yet, and it will be two weeks tomorrow, I lost more like 3 pounds. It's harder to use then I thought, but it's ok."
From DietInReview.com:
"I actually liked the Abcircle machine, I've been using it now for 1 month and have lost 12pds but I think I would have lost a bit more if I had kept to the nutrition diet they gave me to get quicker results. Great for the slimming down of the abs. I would recommend it." – Jane
"I absolutely love the machine.The only thing is that my knees keep sliding off the pads and I don't understand why. Other than that, I use it three times a day for 5 minutes. It really works." – Karen Miner
Average Consumer Rating: 3/5
Pros
The Ab Circle Pro is portable and compact.
Comes with a nutrition guide.
The ab machine may provide an adequate abdominal workout.
Portability makes it easy to set-up and take down.
Comes with an instructional DVD with workout routines.
You can try for 30 days for $14.95 plus shipping and handling.
Cons
A bit expensive: the machine costs around $235,including shipping and handling.
Users report that knee pads may split.
Users report cushion support for the knees is uncomfortable.
Weight loss claims may be exaggerated.
Users report that design is not durable.
The Bottom Line
It is believed that building strong abdominal muscles is important for developing good core strength, as the abs appear to serve as the foundation for our strength. While there are many different options to build strong abs, such as doing sit ups and crunches, the Ab Circle promises to help you tone your middle as well as your thighs, rear and hips.
But like many fitness devices, users suggest that some of the claims, especially related to weight loss, are a bit exaggerated. The durability and comfort of this ab machine have also been brought into question. And with a $200+ price tag, there may be cheaper more effective options, e.g, Lee's Fitness Model Program.
If you are interested in testing out the Ab Circle Pro, however, it is recommended that you take advantage of the 30-day trial and be sure to read and follow the terms and conditions so that you have a chance to experience it before committing to purchase.
Where to Buy: Ab Circle Pro Main Site
Your Rating: [ratings]