"Supercharge Your Fitness, Fat Loss & Performance With High Intensity Interval Training!"
Get In the Best Shape Of Your Life In Less Than An Hour A Day…
Are you tired of the flab? Are you ready to get slim and lean? Or, maybe you just want to get your sexy back. Regardless of your motivation, the one surefire way to supercharge your fitness, boost your metabolism, burn off that extra fat and start reaching your goals is with High Intensity Interval Training (HIIT).
HIIT is about mixing high intensity bursts of exercise with moderate intensity recovery periods. It's brutal but has incredible advantages. It's the quickest way to get in the best shape of your life.  Additionally, intervals allow you to get your workouts done a lot faster than slow, boring cardio workouts. And with the workouts recommended below, there's never a dull moment.
Get Insane With Insanity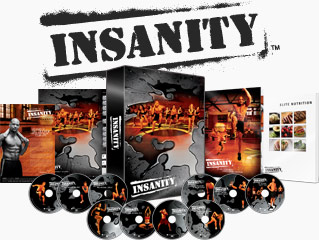 Insanity, a DVD series by Shaun T, is one of the most challenging HIIT workouts on the market. You will sweat, gasp for air and beg for mercy! But, in just 60 days, you will melt away fat, build a lean, hard body, and supercharge your energy.
Insanity takes you through cardio and plyometric drills with intervals of strength, power, resistance, and core training.  It all happens in long bursts of maximum-intensity exercises with short periods of rest so you can burn up to 1,000 calories in an hour.
Although insane, Insanity is the most rewarding workout you will EVER try. And the best part: You Don't Need Any Equipment Or Weights – Just The Ability To Dig Deep And Push Past Your Limits. Additionally, Insanity is part of the Beachbody suite of workout programs. That means you can join the Beachbody Community FREE.  Membership provides you with all the accountability, support, and motivation you need to achieve your best body ever!
Burn It Off With TurboFire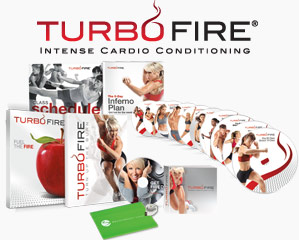 Next up is TurboFire. Although not as extreme as Insanity, this program on DVD includes high intensity kickboxing and interval training. You'll work out at your max for up to 1-minute intervals with quick periods of rest to ignite your metabolism and burn 9x more fat than with traditional cardio. The AfterBurn effect will have you burning extra calories for up to 24 hours after your workout.
The machine behind TurboFire is Chalene Johnson, a Fitness Innovator and Motivational Dynamo.  This is one feisty, high-energy trainer that keeps you engaged throughout. You'll get leaner, stronger and hotter FAST.  And with more than 20 smoking-hot music remixes, TurboFire will pick you up and push you past your limits.
As with Insanity, there is no special equipment required to get your burn on. And, by taking advantage of the free membership in the Beachbody Community, you'll find plenty of support to ensure you meet your goals.
Burn It Fast With Burn Fat x10
T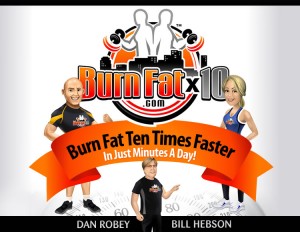 he workouts for both Insanity and TurboFire range from 10-60 minutes. For HIIT workouts around the 20 minute mark, take a look at the Burn Fat x10 program.  This program teaches you three things: 1) how to do short but intense workouts that burn calories fast and boost your metabolism for up to 36 hours after the workout is complete, 2) how to create powerful lifestyle habits for lasting weight loss, and 3) how to eat right to lose weight.
What's most unique about Burn Fat x10 is that it is delivered in a "living ebook" format. The over 65 exercise videos and routines are inside the ebook itself. Any time the authors update the contents, your copy of the HIIT program automatically updates as well. That means you'll always be current with the latest expert advice and tips to transform your body.
While high intensity interval training may seem a bit intimidating, rest assured that it is effective and perhaps even the most effective method for beginners as well as advanced exercisers to get fit and lose fat. Even if you are just dipping your toe into the fitness waters for the first time in months, years, or dare I say, decades (if the later, make sure to see a doctor before you take up any exercise program), you can easily adjust to a HIIT workout.
The benefits….
First, research has given us a lot of evidence that intervals are superior to traditional cardio. You can't argue with that. In fact, a study from Laval University in 1994 compared interval training to endurance training over a 15-week training period. Subjects that used interval training had better results and lost more fat.
Second, interval training causes a boost in your metabolism.  This means that with interval training, your body uses more energy and burns more calories.
The important thing to remember when doing interval training workouts is to find an intensity that allows you to work to near fatigue – but not complete fatigue. There should still be some "gas" left in the tank while you workout.