Episode 2 – What Kind Of NBA Season Will This Be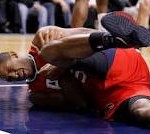 In this episode, we are 11 days into the 2011-2012 NBA Season. We discuss:
The biggest surprises so far.
Players who have been cut and still looking for a home.
The onslaught of injuries among key players.
Our show would not be complete without a look at the Lakers. We will discuss the biggest differences this season along with some feedback from other Laker fans. We'll also deliver the latest on the Dwight Howard trade talks and some bad behavior in the league.
Give us your feedback below.
Tagged basketball injuries, nba