Episode 3 – Still More Injuries In NBA Land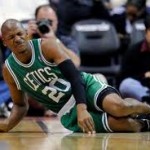 Who's hot and who's not? That's what we discuss in this episode of the Intenz Sports Talk Show. At the top of the discussion is of course Kobe's 4-40 point games. Is the Black Mamba proving everyone wrong as to whether he's still one of the best in the league?

As you answer that question, you'll be interested to hear Michael Jordan's thoughts on the issue.
We'll also talk about:
Whether the Clippers are contenders or pretenders.
The best PF/C duo in the league.
Which older players are still putting in work.
Give us your thoughts and weigh in below.
Tagged basketball injuries, nba