Ab Circle Pro Review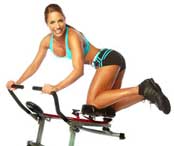 The Ab Circle Pro is a portable fitness device that tones your abs while also trimming your bum, thighs and hips. Fitness celebrity Jennifer Nicole Lee teamed up with FitnessBrands.tv to create and develop this machine touted as being a "treadmill for your abs."
| | |
| --- | --- |
| Product: | Ab Circle Pro |
| Manufacturer: | Fitness Brands, Inc. |
| Price: | $199.75 + $34.50 S&H |
| Guarantee: | 60-day Money Back Guarantee |
Product Description
The Ab Circle Pro combines Cardio exercise with abdominal exercise to burn fat and tone sleek trimmed abs. Using gym-quality steel, the Ab Circle Pro uses a unique friction-free track that allows you to move in a circular or side-to-side motion on your knees as you hold onto the secure handlebars. The device can be set to three levels of resistance and offers you a cardiovascular workout as well.
This ab workout machine appears to be marketed as a good option for those looking to focus on the abdominal muscles, including the lower and upper abs, as well as the obliques. It also seems to be advertised as an effective option for those who would like to give their lower body a workout as well. According to the manufacturer, just three minutes on the Ab Circle may provide a similar workout as doing 100 sit ups, though results will certainly vary from user to user.
You can try the Ab Circle Pro for 30 days in the comfort of your own home for just $14.95 plus $34.50 shipping and handling. So if you want to lose those love handles, banish those bulges and send that pooch packing, try the Ab Circle Pro today.
Consumer Reviews
From InfomercialRatings.com:
5/30/2009 – Stefany of Alabama, US writes:
"After I recieved this machine first thing I noticed was most of it was made of a light weighing metal but the top where all your weight would be was made out of plastic, I had my doubts. As I worked out as directed I did notice my legs, thighs and hips starting to get some tightness in them but as far as losing any inches or weight in my mid section as promissed, nothing and this was working out anywhere from 3-5 minutes per workout sometimes 2 or even 3 times a day, for the two weeks. And as far as that plastic surface, it was wearing out before the two weeks were even up…"
3/22/2009 – Holly of CA, USA writes:
"I have tried a lot of different programs to tone my abs. After I had my daughter I really struggled to lose some of my pregnancy weight. I used all different infomercial products. I finally saw the Ab Circle and it looked like real workout equipment. The nice thing is it folds up and I can easily store it in my closet. I loved the nutritional guide that came along with this. I can honestly say that I would not be in the shape I am in without the ab circle. I am very happy with the product. The only thing I didn't like about it was at first it was hard. Now that I am used to it though I have already increased the resistance and am able to do it no problem."
From DietBlogTalk.com:
"RabbitRun: My husband and I almost fight over the AbCircle, and believe me, a few more times on this and I'll be able to take him, I know it says only abs, but my arms are stronger too, must be working those while I'm twisting, it's a super addition to my cardio…Roger thinks so too!"
"Aaron Ure: We have had our AB circle for just over a week with the whole family of four practicing on it only to find out that it has started cracking already. As for the claim that it is easy to use, I still have indentations in my knees from the bolts in the memory foam. A big dispointment."
"Rolanda: I just received my Ab Circle in the mail 3 days ago and I have to say that so far I think it's great!! It is a lot harder than I initially expected but I am already feeling it in my obliques, which have alwayd been a big problem area with me… I plan to use it consistently over the next along with a sensible diet plan of my own…"
"Nancy: I bought the Ab Circle and so far I like it, but I haven't seen great results as of yet, losing 10 pounds in 2 weeks, not yet, and it will be two weeks tomorrow, I lost more like 3 pounds. It's harder to use then I thought, but it's ok."
From DietInReview.com:
"I actually liked the Abcircle machine, I've been using it now for 1 month and have lost 12pds but I think I would have lost a bit more if I had kept to the nutrition diet they gave me to get quicker results. Great for the slimming down of the abs. I would recommend it." – Jane
"I absolutely love the machine.The only thing is that my knees keep sliding off the pads and I don't understand why. Other than that, I use it three times a day for 5 minutes. It really works." – Karen Miner
Average Consumer Rating: 3/5
Pros
The Ab Circle Pro is portable and compact.
Comes with a nutrition guide.
The ab machine may provide an adequate abdominal workout.
Portability makes it easy to set-up and take down.
Comes with an instructional DVD with workout routines.
You can try for 30 days for $14.95 plus shipping and handling.
Cons
A bit expensive: the machine costs around $235,including shipping and handling.
Users report that knee pads may split.
Users report cushion support for the knees is uncomfortable.
Weight loss claims may be exaggerated.
Users report that design is not durable.
The Bottom Line
It is believed that building strong abdominal muscles is important for developing good core strength, as the abs appear to serve as the foundation for our strength. While there are many different options to build strong abs, such as doing sit ups and crunches, the Ab Circle promises to help you tone your middle as well as your thighs, rear and hips.
But like many fitness devices, users suggest that some of the claims, especially related to weight loss, are a bit exaggerated. The durability and comfort of this ab machine have also been brought into question. And with a $200+ price tag, there may be cheaper more effective options, e.g, Lee's Fitness Model Program.
If you are interested in testing out the Ab Circle Pro, however, it is recommended that you take advantage of the 30-day trial and be sure to read and follow the terms and conditions so that you have a chance to experience it before committing to purchase.
Where to Buy: Ab Circle Pro Main Site
Your Rating: [ratings]
Tagged ab circle pro, ab machine, ab workout machine, fitness model program, jennifer nicole lee