Air Climber Review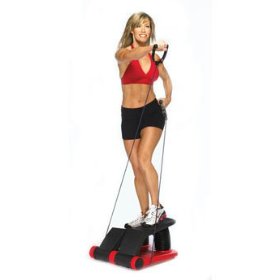 Exercise gyms will probably always be a part of our society. However, more and more people are opting for equipment that they can use in the comfort of their own homes. The AirClimber is an aerobic stepper that uses air to provide low-impact resistance. The makers of the AirClimber claim "you can get the results you want, where you want them, starting in as little as 20 minutes a day." The AirClimber can also be used with resistance bands for upper and lower body exercise and comes with an eating and workout plan.
| | |
| --- | --- |
| Product: | The AirClimber |
| Manufacturer: | AirClimber |
| Price: | $89.99 |
| Guarantee: | If not 100% satisfied, contact customer service for a full refund or credit less shipping. |
Product Description
The AirClimber was developed by fitness expert Brenda Dygraf. Ms. Dygraf is a U.S. Aerobic Champion and she has made more than 150 fitness videos. Suffering from sore joints led her to develop the AirClimber to lessen the impact on her joints and make exercising more comfortable.
This mini stepper takes walking and aerobic exercise to new heights. By simply stepping naturally on pedals, you can obtain an aerobic workout. The key to this equipment is the method by which the pedals work. Each time your feet step on the pedals, air is generated and flows through bellows located under the pedals. This "air power technology" is good news because it prevents the jarring effect on the joints that is usually associated with stepping machines. This means that you can workout longer without causing injury to your joints.
Another benefit of the AirClimber is that you don't have to work as hard as you normally would to achieve results. With a twenty-minute workout you will work your abdominal, leg, glute, and back muscles. This equates into a significant calorie burn. The longer you workout with the AirClimber, the more benefits you will attain.
The AirClimber is sold with "Easy Air Express," a workout DVD to help maximize your workout. As you progress, you can purchase additional workout DVDs from the company website. The Air Climber also ships with resistance bands, which you can use to burn more calories by working both your upper and lower body.
Consumer Reviews
From DietBlogTalk.com:
Maggie: I thought the AirClimber was ok at first, but it turned out to be rather cheaply made. Within 3 weeks one of the plastic steps cracked during the workout. I've been trying to get hold of the manufacturer for refund/replacment but have not gotten thru yet.
Alli: It's a pretty decent workout, especially since it comes with resistance bands. I used to do a lot of running but have too much joint pain to continue. The Air Climber workouts don't give me the same runners high, of course, and I miss that. FOr what it is though, I am burning calories and staying toned, so its not bad.
From Amazon.com:
I like the Air Climber. Yes it is made of plastic and no it is not the same as a $1000 gym, but for under $100 I find it effective, easy to use and so far sturdy. I feel like I am getting a good workout with it, but I do supplement the workout with isometrics and a Biggest Loser cardio video. So for the price I am happy with the Air Climber.
- Chava Bahle "Reb Chava"
I absolutely hated this stepper. It is way overpriced for it feeling so cheap, and even on the highest intensity level, I barely broke a sweat even after 25 minutes on it. It also make a swooshing noise that is extremely obnoxious. Imagine the sound when you blow up a raft, only louder, every time you step! SWOOSH, SWOOSH…SWOOSH, SWOOSH…it will drive you crazy. If you are even in remotely good shape, this will not give you the workout you are looking for. I have tried to give it to my Mom, my sister-in-law and a friend, and every one of them has given it back! I seriously can't get rid of it, that is how bad it is! There are so many other steppers on Amazon that work better and are less expensive.
- CMH
From InfomercialRatings.com:
Bellows were already inflated, right out of the box. This works for a few minutes, but I had to keep getting off to re-inflate. I really like the idea of this item, but its too much of a hassle to keep re-inflating and getting back on to exercise. Unfortunately, I'll have to return it.
- Stacy of PA
Its great overall . I highly recommend it. Its a great price $100 portable and light. The workout is felt after a good workout.
- JCRestoredme of CA
Average Consumer Rating: 3/5
Pros
The Air Climber is easily stored so that it does not interfere with your home decor. You simply fold it and tuck it away in a small space, such as under a bed or in a closet. This machine is a nice option for people who need to stick with low impact workouts.
Comes with a 30 day trial offer.
Cons
Price is slightly above other equipment in its class of fitness products.
Mixed reviews related to product effectiveness.
Quality is questionable based on consumer reviews.
The Bottom Line
Overall, the AirClimber is a fitness product that provides an aerobic workout that both the athletic and newcomer to exercise can enjoy. If you don't mind paying a little more for an innovative aerobic machine that can provide you a full-body workout with a high calorie burn in a short amount of time, the AirClimber is a good choice for you. However, based on consumer reviews, be aware that there are concerns related to the quality of the product and, in particular, the effectiveness of the air technology.
Where to Buy: AirClimber
Your Rating: [ratings]
No items matching your keywords were found.

Tagged aerobic exercise, airclimber, low-impact exercise, stepping machine