Barry's Bootcamp Review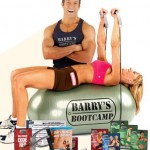 As seen on such programs as The Today Show and Good Morning America and featured in such magazines as Us Weekly, People, and Shape, Barry's Bootcamp complete workout system is touted as one of the most efficient and effective workout programs available. Over the past 10 years, Barry has become one of the most popular fitness trainers in Hollywood. With a client roster that includes Jake Gyllenhaal, Katie Holmes and Biggest Loser host Alison Sweeney, he seeks to provide the best bootcamp in the world. And it seems to be working — for those willing to endure some pain for their gain!
| | |
| --- | --- |
| Product: | Barry's Bootcamp |
| Manufacturer: | OptiMax Fitness |
| Price: | Free 30 day trial plus $9.99 S&H ($59.99 after 30 days) |
| Guarantee: | 30 Day Money Back Guarantee |
How It Works
Barry Jay designed his own Bootcamp to help his A-list celebrity clientele in Los  Angeles. Now, he is sharing his Bootcamp with you, so that you can also lose weight  the way the stars do. Barry's Bootcamp is a complete full-body exercise system that  will help get you in shape in as little as 30 days. Based on Focused Interval Training  (FIT), this Bootcamp delivers fast and dramatic results in a short period of time.
The FIT system requires you to perform each exercise for just 60 seconds at 100  percent of your ability and then rest for 30 seconds. Barry's revolutionary exercise  strategy, combined with his patented, raspy drill-sergeant tactics and fun atmosphere,  creates a unique and irresistible workout environment that inspires and motivates  "enlistees" to push harder and get into great shape fast.
Barry's Bootcamp is full of energizing, fun and easy to follow workouts. You will be  losing weight while having a blast.
What You Get
The complete package comes with nine workouts on three DVDs, along with a transformer,  Barry's patented Power Handles, two sets of resistance bands, and Hollywood Code Red:  6-Day Rapid-Fire Weight Loss Workout and Eating Plan.
The three DVDs include the Fat Blaster Upper Body Workout, a 21-minute workout that  concentrates on your chest, arms, shoulders, and back; the Fat Blaster Lower Body  Workout, which tones and strengthens your thighs and legs while lifting your butt; and  the Mission Specialist Workouts, which target your problem areas in just 12 minutes.
Barry's Bootcamp fitness equipment is every bit as important as the DVDs. The  transformer, for example, is a revolutionary combination of a workout bench and an  ultra-stable core exercise ball. You can lay on it, lean on it, and even lift it. The  package also includes Barry's patented Power Handles, which flex and rotate through  each bootcamp exercise to focus the resistance on your entire muscle. The handles work  in conjunction with two sets of resistance bands, which let you choose the best  resistance level for each exercise.
Click Here To Buy Barry's Bootcamp Now!
Consumer Reviews
From Amazon.com

Keshia L. Phillipenas: I absolutely love this product! It is so practical and easy to fit into my busy life with my new baby. I thought I would never shed those last 8 pounds, but with Barry's Boot camp I have done more than that. Not only have I lost the weight, but I have toned up. I am in better shape now than I was before I had my baby. This works! I recommend it to ANYONE wanting to shape-up or shed some unwanted pounds. It really has changed my life…
A.Smith: This is a great workout program. I was surprised that it was easier then I thought it would be, but you can see the results pretty quickly. Works your lungs and muscles and makes you sweat. I feel energized after the workouts.
From Buzzillions.com
In Shape 40′s Mom: What a great value! A total workout for what I was paying monthly for my gym membership. The quality of the product is amazing. By the end of the workout, I am soaked with sweat. Not only am I burning calories, but I am gaining strength. I would recommend this product to all of my friends.
Sara: …I've been doing Barry's workouts and lost 14lbs in the first month! I promise if you follow the work out religiously and stick to the eating guide you'll have the same success…
From 3fatchicks.com
Zandralexia: I'm on day three of barrys and it is awesome it is really motivating and fun, it is a little tough at first but i never feel bad if i have to take a short break because you are so sore after and feel so good, im already down a pound and a half because of it.
Average Consumer Rating: 4.5/5
Click Here To Buy Barry's Bootcamp Now!
Pros
Easy to use
Compact
Multifunctional
Cons
Some consumers complain that the transformer (fitness ball) is poorly made.
The Bottom Line
Burning fat up to 9 times faster than regular exercise, Barry's Bootcamp is the  perfect way to exercise smarter, not harder and achieve the same amazing results!
Where to Buy: Get Barry's Bootcamp
Your Rating: [ratings]
Tagged barry bootcamp workout, barry jay, barrys boot camp, barrys bootcamp, barrys bootcamp dvd, fitness bootcamp