KorFlex Review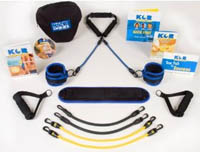 Few fitness experts would disagree with the makers of KorFlex that core strength is one of  the important parts of fitness. KorFlex is an innovative and effective resistance system designed to maximize performance for Core Strengthening.  This System is simple and elegant and has the powerful ability to help you achieve and maintain your fitness, strength and rehabilitation goals.
Product Description
KorFlex was created by martial artist, Keith Cooke. Cooke has been the Martial Arts World Champion six times, a member of the Martial Arts Hall of Fame, and owner of the trendy fitness center "Champions" in Brentwood, California. He designed KorFlex as a low impact exercise system that utilizes resistance bands to reduce weight as well as tone and increase muscle mass. KorFlex combines aerobics, martial arts and resistance training in one work out.
The KorFlex exercise system claims that "in seven minutes a day it can take pounds and inches off anyone." The system uses a DVD and resistance bands to guide users through a series of seven exercises that are done consecutively to raise the heart rate. The exercises are done on a mat as well as standing, in order to use each of the core muscles.
Each KorFlex order comes with resistance bands, instructional DVD, fitness planner, timer, and the KorFlex nutritional success guide. And KorFlex is currently offering a 2-for-1 special.
Pros
Korflex offers a full body workout.
Korflex is very small and can be stored easily.
KorFlex works to increase core strength.
Cons
This product won't work if you are mobility impaired.
May not maintain at least thirty minutes of heart raising activity which health professionals agree is important for an overall fitness program.
The Bottom Line
KorFlex is an ideal system to increase and improve core body strength. The portability of this system definitely makes this system worth a try.
Where to Buy: KorFlex Workout
Your Rating: [ratings]
Tagged core workout, korflex